Taken from
The Best Page in the Universe
:
Before I begin, I should warn you that I know dick about fashion. It's not just a clever title to get your attention, though it's admittedly clever (I'm honest enough to admit when something is brilliant, even when it's my own writing).
You shouldn't read this article if you're a woman with low self-esteem. I don't need my inbox filled with emails from teary-eyed women reaffirming how astute my observations are by shrieking at me for ruining their lives.
Women get away with murder in our society, especially when it comes to the visual pollution they call fashion. So I'm going to do what few people—few men—have ever done by criticizing you. Sure, you may be thinking "but Maddox, people criticize women's fashion all the time!" Yes, but not men, and definitely not badasses like me.... Until now.
Crocs look like shit and they make your feet smell.
When I see people wearing Crocs, I know immediately that we have nothing in common, and that we could never be friends or have any meaningful kind of relationship. They come in every color imaginable yet look bad with every other article of clothing ever created. The only thing that goes with Crocs is social ostracism.
To their credit though, Crocs serve as an excellent idiot barometer; you can tell a lot about people wearing them. For example, Amazon.com suggest products that other customers have purchased based on the item you're shopping for. Here are the suggestions for Crocs:
When it comes to shoes, there are usually three deciding factors: quality, price, and style. Some shoes are cheap and stylish, but poor quality, while others are stylish and durable, but expensive. Crocs usually go for $30-$60, which doesn't sound like much for a shoe, until you consider that what you're really paying for are melted pellets squirted into a cast-iron mold in some province in China. Crocs have the rare combination of being expensive, poor quality, and ugly. It's quite a feat for one shoe to suck this bad.
People who wear Crocs go on and on about how comfortable they are, and how it's supposedly odor resistant because it's made out of some kind of anti-bacterial foam. Great point, dipshits! You know what else it's resistant to? You getting laid. Then as if the shoes weren't disgusting enough, Crocs introduced a product called "Crocs butter" that's supposed to restore that illustrious injection-molded sheen to those gaping holes they call shoes: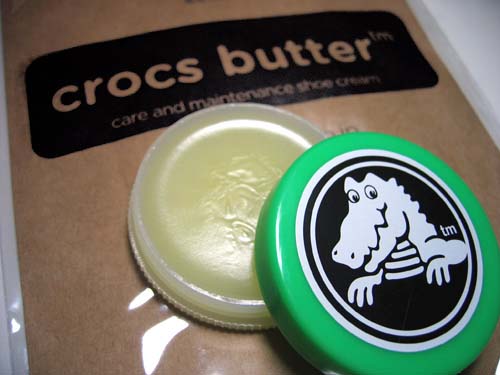 You know that feeling you get when you're full and slightly nauseous and you burp and you can taste the partly digested food in the back of your throat? There isn't a word in the english language to succinctly describe it, but I will hereby refer to it as: croc-butter.
Thank You, Internet. And thank you Best Page In The Universe.

♦
DiggIt!
♦
Add to del.icio.us
♦
Add to Technorati Faves